Saturday at the Northwest Washington Fair
On Saturday we were supposed to go boating on Cultas with Raskal on his funky boat. Since the last few weeks have been scorchingly hot, this was a eagerly anticipated event. I did keep my eye on the weather though, as I'm paranoid about this sort of thing. The prediction for saturday was a high of 21c with a 60% chance of showers. I emailed those involved Friday to say "hey, so wassup with that?" and in effect cancelled the whole deal. So we looked outside on Saturday and it wasn't good, but it wasn't bad. Grey, overcast, but not raining. Not the sort of day to learn how to waterski and scope out babes in bikinis though.


So Andrea suggested we hit the Northwest Washington Fair, and in a stroke of genius I agreed. We got down there and it was just sort of starting to sprinkle. "No worries," I said, it'll be fine if it's just like this.


An hour later it was pouring. I'm glad it did because I'm sure wells, grass, and firefighters need it, but definately not the sort of weather to go to a fair in. We managed to stay mostly inside though, looking at animals and displays, and then undercover in the grandstand while cowboys and girls on horses rode around in the pouring rain.


Hit the read more for some pics from the day.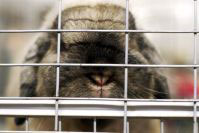 Lots of interesting and cute animals in the various barns full of crazy 4H kids and their prize winning dinners pets.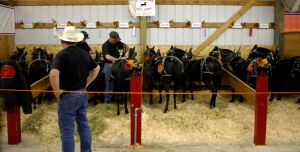 We got into the horse area just as people were getting ponies and horses ready to pull buggies, this is a set of ponies from one of the teams that hook 8 mini-horses together and go rocketting around the stadium.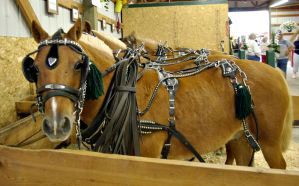 This guy, a full sized buggy puller was also getting ready and gave me a funny look.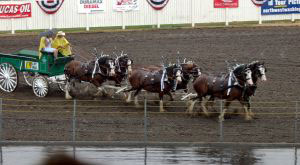 This is the result of a lot of work decorating the horses and ponies, hitching them together, and getting them all to work together. Wet unhappy horses pulling wet, unhappy people in the pouring rain.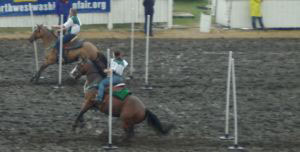 After the buggy pulls were some horse games, mostly racing type. This captures a couple of folks rounding the polls. Now I wish I'd brought my longer zoom lense, but I was told there wasn't a rodeo (which technically I suppose there wasn't).


After that we pretty much headed back. The rest of the fair was outside and we were wet enough already. We had lunch at "The Nuthouse" on the way back, a country grill type place with country music playing, a pail of peanuts on the table (shelled) and a floor just covered in shells. Fun place actually, with pretty decent food.