Today, for the first time in almost a decade, I am unemployed. This is a little story as a memorandum of my time with Left of the Dot, and the people who worked there.
Beginnings
Just over 9 years ago I joined a little company called Left of the Dot. I was introduced to the founder by a friend of mine who was doing the over-three-hour, round-trip commute by train into Vancouver with me. The opening pitch of "these guys are going to open an office in Maple Ridge" convinced me. Since then I've told people, "I didn't care what they were doing, they could have been putting puppies in blenders for all I care, I just wanted to not work in Vancouver." (Obviously an exaggeration in case you were wondering kinda).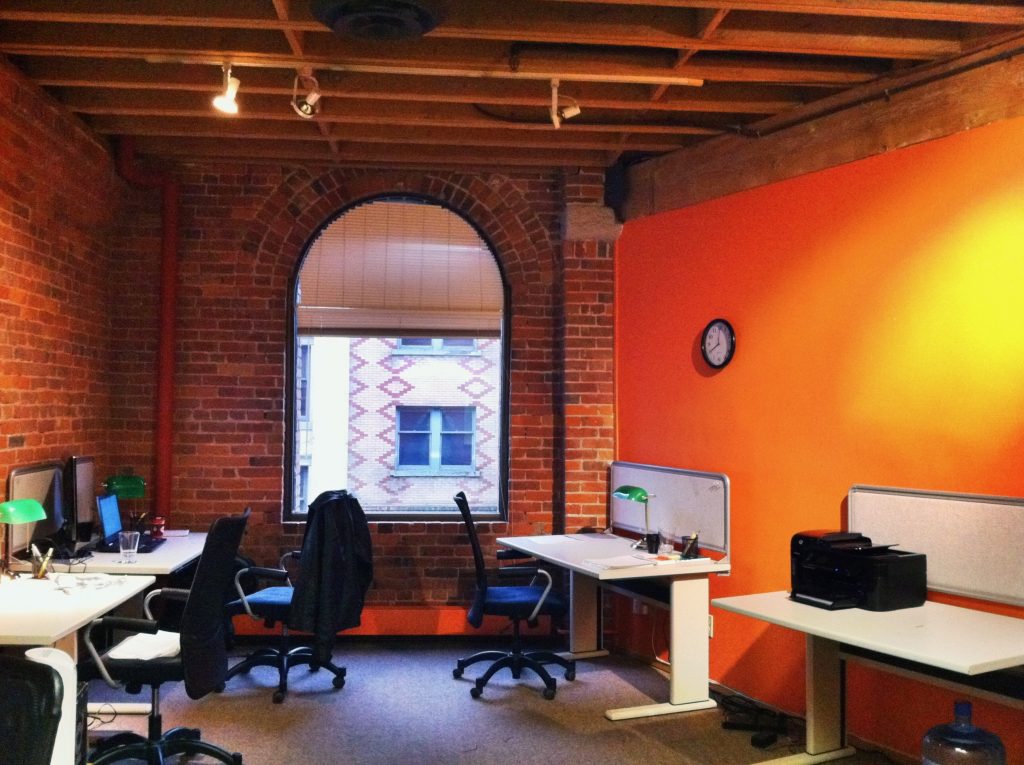 I was one of the first three, full-time employees: myself and two others working as developers. We started in a small office downtown, lots of brick. The on-boarding process was different than any other company I've worked for. The first day started with an introduction from the founders, John and Chris, telling us about themselves and their families, talking about core values, and what the company is (and will be) about. Also kites.
The company has always been about kites. "The kite flies because of its tail" was the motto, with the idea being that the kite is the main goal and the tail (with the little bits tied into it) being the small goals that you need to accomplish to complete the main goal.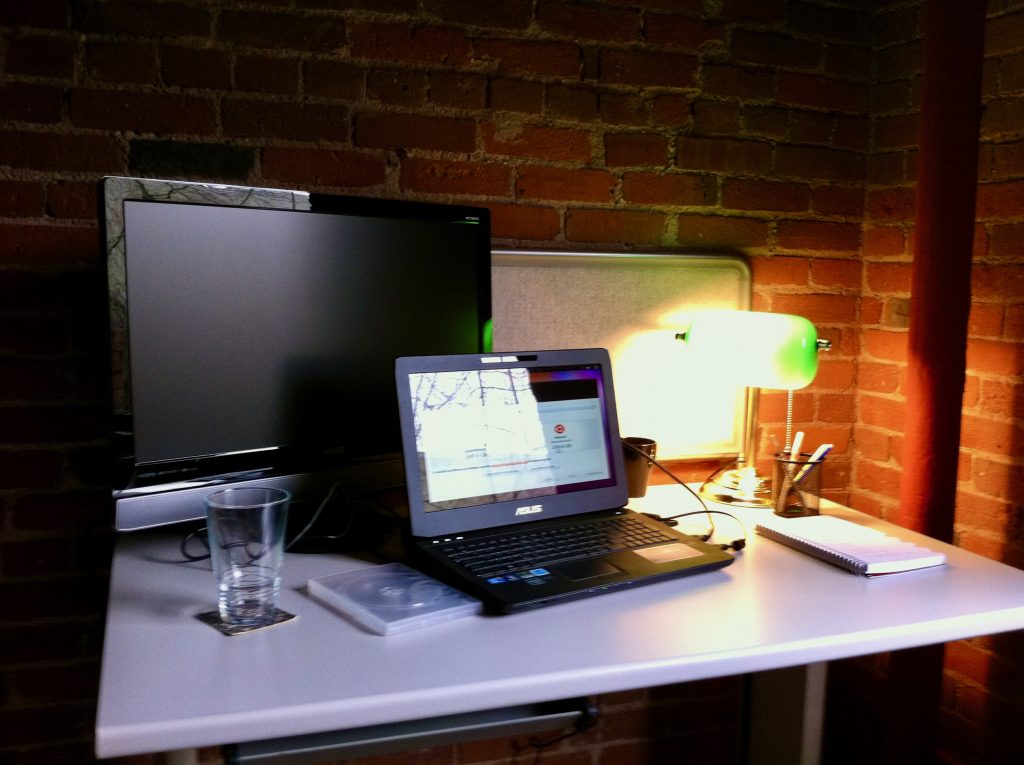 After a few months we moved into an office in Maple Ridge above a vet's office and next to a day care. The improvement in quality of life was palpable from the start. A commute that takes 30 minutes each way compared to over an hour and a half each way and the time that that gives you back is amazing. Everyone helped out in setting up the office, and it ended up with a lot of personality.
And in case you're wondering, yes, these photos were chosen specifically to make it look like all John did was watch Chris do the actual work.
The sites we were working with were printed out, signed by everyone and put on the wall to see when you go up the stairs, there were kites hanging from the ceiling, and the layout was done well for getting work done.
Evolution
The company evolved. Both with employees (the joys of a startup with more and less money depending on the month, week, or day) and the type of work. We started with one thing, moved to another, and then another. At one point we were a week away from shutting completely down, another we sold a domain for a ridiculous amount of money and were flying high. Again, #startuplife, for both good and bad.
Lots of good memories of that first office. A few of note:
That time that a new employee was hours late to work on his first day and then at least one other day in his first two weeks. Plot twist – he lived literally across the road.
That time we did the Ice Bucket Challenge .
Oh, the guy that was late his first day? He also ran over the boss's dog's tail.
As the photographer, I also took it on myself to record events, take headshots. It's amazing to see how horrible my photos were from back then. Nothing like looking back 9 years to see how far you've come.
The Animals
Deefer, the first office dog. Chris's chill buddy who was happy to lay around. A great friendly puppy at heart. His name of course was a play on "D for Dog". I miss that big puppy.
Once we fostered two adult cats. They shed everywhere (as cats do), and hair was in every nook and cranny imaginable. They were fun to have though, and they lived the opposite lives of normal cats, they had people to talk to them during the day, and were left alone at night. As a cat person myself, I thought it was great. Not sure how everyone else felt though.
One time that we fostered kittens. My my wife brought home three two or three week old kittens (how she managed this is another long story) and I had to bring them to work every day because they needed to be fed by syringe every few hours. They stayed in a box in one of the offices and were mostly not trouble. Because we were above a vet's office, I started bringing them down there and the vet techs and nurses loved them. They let me keep them there overnight and would carry them in their pockets wrapped up in towels during the day as little purritos. One of them (named Shadow) was adopted by a co-worker, and is still with him and keeping him on his toes.
We also acquired a gorgeous German Shepherd named Django, owned by our own creative / web designer / and do-everything creative guy (plus much more). Django is one of our longest lasting employees.
Last but not least is the newest member to the Left animal family, Winston
The People
A few kudos have to go out to some specific people.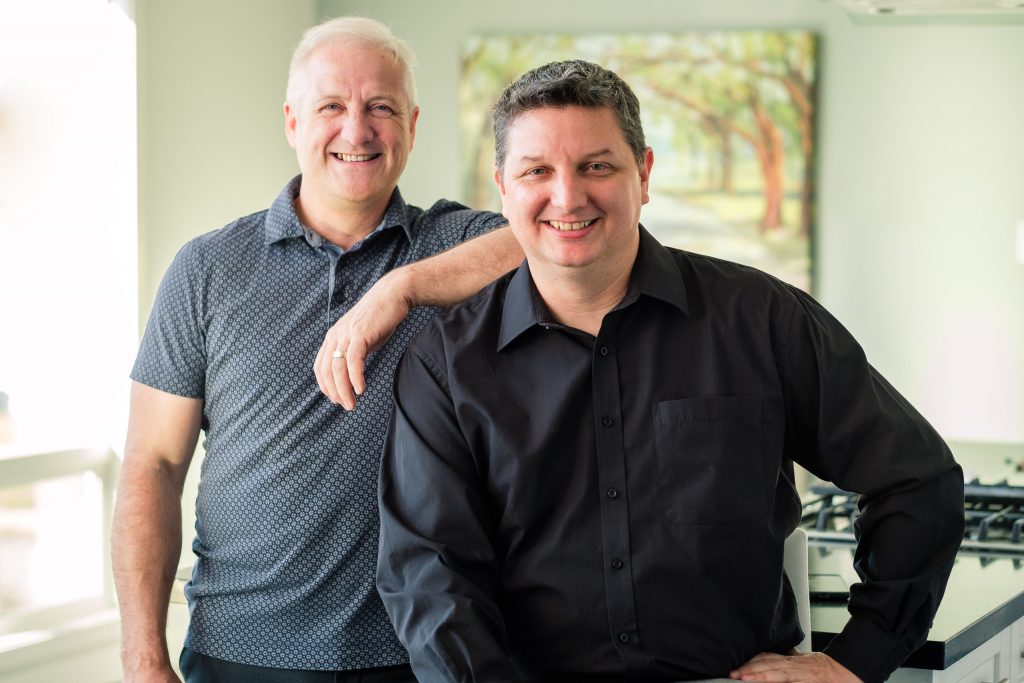 John and Chris, the founders. Obviously some pretty important and influential folks from the start. They started the company not with the vision of what to build, but with the values they wanted to have as a company, and the idea that they'd figure out what to build. They are the ones who did the late nights, took the stress on when hard times hit, and ensure that the right people were in the right places at the right time.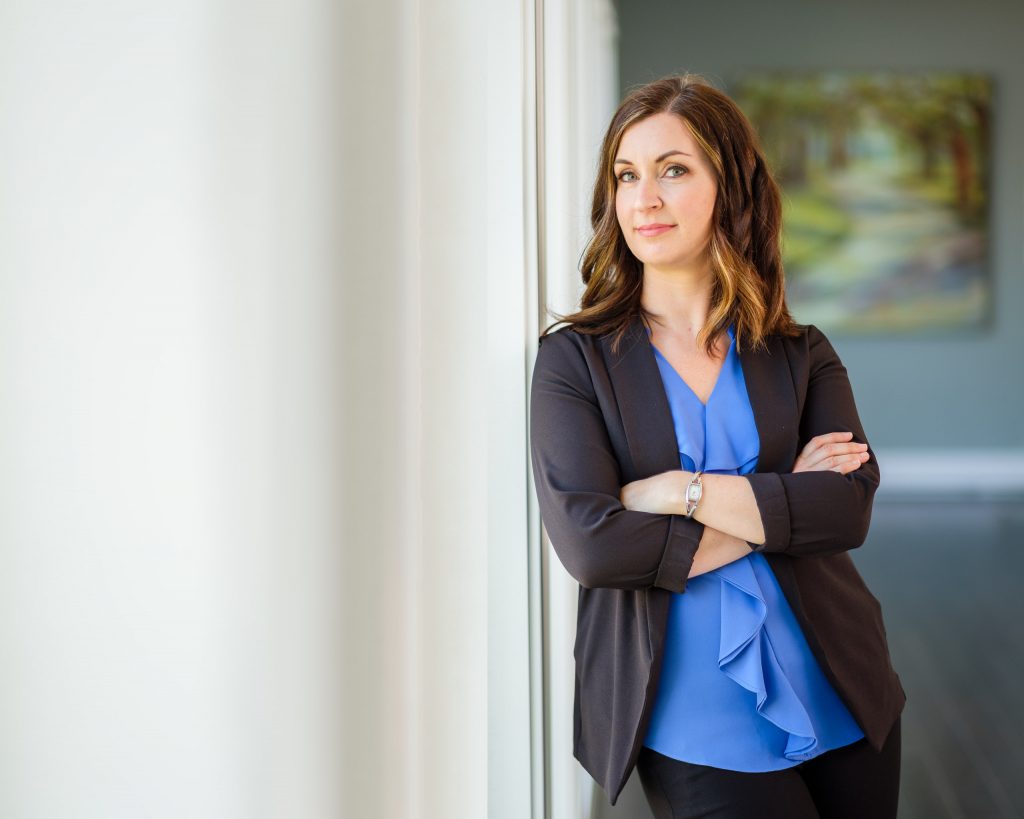 Employee Experience, especially Tracy, which helped shape the core of the experience that we had around the office. From orientation for new employees to events at Easter, Christmas, and others and to programs like the Dream Program.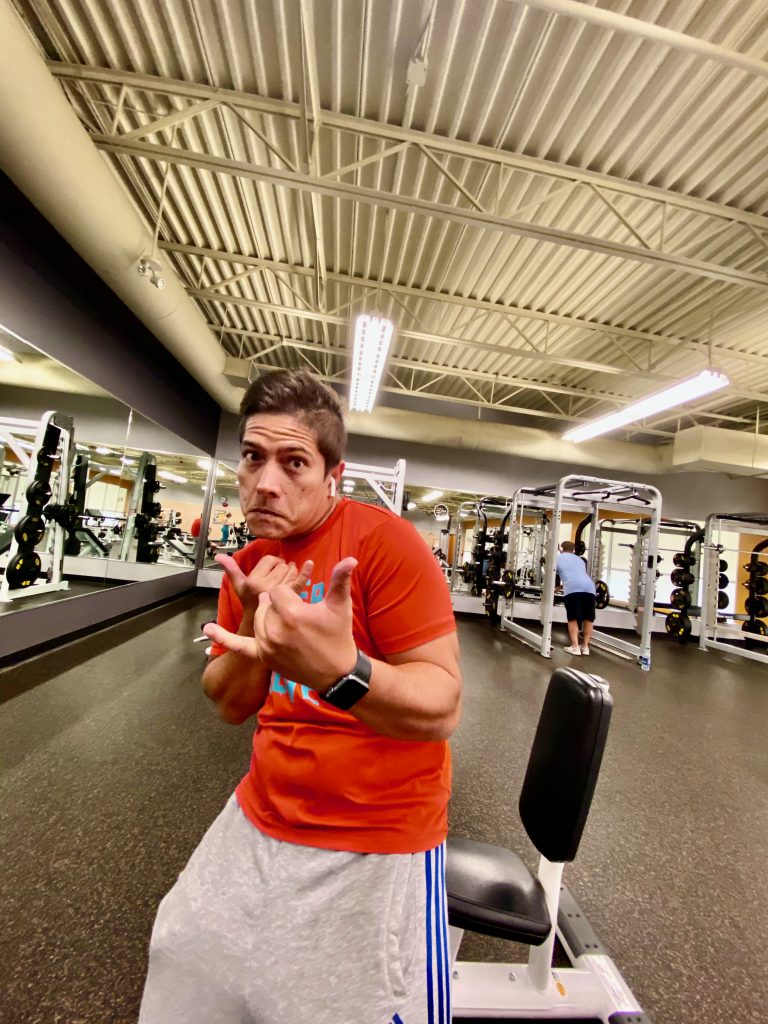 José, my gym buddy. Jose went from "fluffy" to "OMG you're ripped" right under our noses. One day he announced he'd hit his fitness goal and suddenly I was able to see how much he'd changed, through eating well and exercise. When I decided to go from fluffy to "less fluffy" he was there helping me out, we went to the gym together and would encourage each other on. He also gave me a hug first thing in the morning. This started out as a bit of a joke, but after a while getting a morning hug from your buddy was a great start of the day. An amazing guy that I'm still friends with, and send hugging gifs to. Once COVID is over and the world returns to normal he's getting a good hug in person.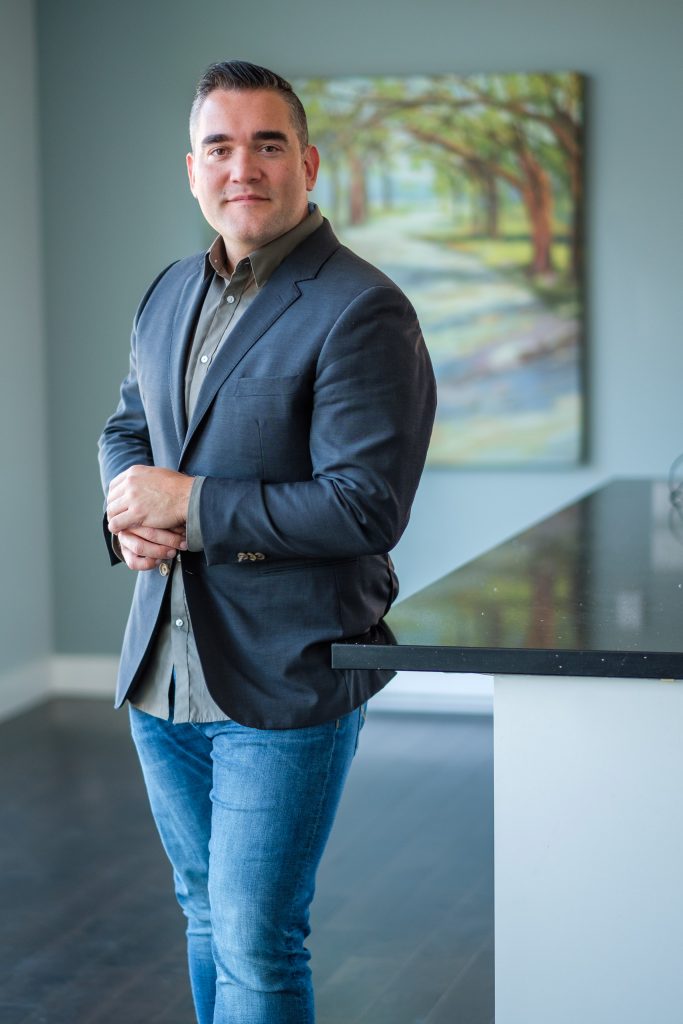 Joe, our amazing in-house entrepreneur and Awesome Creative Guy. Really a force of nature, from designing and implementing the Christmas parties to the websites, to getting coins and badges done. He's responsible for the comfy couch in the Disney Room, table tennis in the Games Room, the timeline on the wall, the (second) office dog, and everything in between. Also a good friend who has a fine taste in scotch and designs to go on body pillows (story for another time). He's the sort of person who will announce his wife is pregnant not by saying "my wife is pregnant," but showing up at Beer O'clock on Friday with a shirt that says simply "DILF". Oh, and he commissioned a large oil painting of himself and his dog which lived in the office.
Ash – boss girl, ruler with an iron fist, and 100% mischief maker. She's a contender with me for having the best dirty sense of humour, and a mouth that could potentially get someone in trouble if it was unfiltered (which sometimes it was). Joking aside – she took over Left Travel and did amazing things driving it forward. Also, tallest person in the world.
Caryl – our industrious project manager. Not only the chief whip cracker, but possibly the person who uses more post-it notes in a week that most companies do in a year. This is someone I'll be leaning on in the future for advice on future jobs involving anything to do with managing people and of course, whip cracking.
Melissa – Employee Experience and corporate strategy. Melissa did a lot of work with the building up of Rightmesh and the ICO which I think would have aged a normal human by 10 years, and yet she got younger.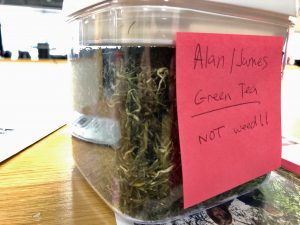 James – my first (and only) minion. I often joked that my job at Left was everything from the overall security and architecture of our cloud systems to rebooting the printer when the boss couldn't print. A couple of years ago James took over half of my role with doing internal support and day to day support, which let me refine my role towards security and architecture. He would jump into projects and was a great worker who I enjoyed sitting beside. His beautiful wife brought me amazing real green tea from China, for which I'll be forever grateful. Mental note: Must get more.
Diana – accountant, payroll, and controller of all things money. Also one of the sweetest people I know. Diana is one of the OG Lefties, starting with us back in our first real office, and was there to the end. I'm proud to have been her coworker for 7 years.
Jason – lead developer and CTO of RightMesh. An immensely skilled programmer and (as you can see) nerf gun sniper. Infectious fun and goofy personality, but able to shift instantly from "guy in unicorn onesie with nerf gun" to "guy debugging low level network protocols". I had the pleasure to photograph his and his wife's engagement photos a few years back.
Anyone not mentioned here, don't be offended please, I know you, I have fond memories of you, but this blog post is way too long as it is.
Moving On Up
In 2015 we had outgrown our little space above the vet. Office space was found and after much (amazing) construction and design direction from Joe, we moved in. The space was huge, well designed, and once again had a lot of creativity thrown in. Meeting rooms were named, funny signs were put on the walls, kites were hung, and a whole array of nice (and much better) office furniture was found.
Some fixtures of the new office were:
A chalk wall decorated by Jenna, one of our amazingly-talented artists.
A wall of inspirational people, where everyone got to choose some people who inspired them and all the photos were put up in a collage.
A meeting room that doubled as a library, where you could bring in and take out inspirational and educational books.
Great design and painting in the lower office by Laura, another amazing artist.
The "Dream Program" wall, where people would put their big life goals up, and would get a photo taken with a big "dream achieved" banner when they got it.
There may have been some booze around the office as well, and possibly a secret room where only certain people were allowed in, cloaks and a ceremony. If there was something like that I certainly wouldn't be able to tell you about it.
We had grown and started to fill up the new office. The company was going in different directions now, and we even had a big "coming out" party. There may have been a lot of booze drunk then, I don't remember to be honest. Fun events like paintball and Easter parties were put on.
We had always touted making a difference in our community a core value, and we did our best by doing things like volunteering at Ronald McDonald House, doing community clean-ups, and giving blood. We kept track of our community hours and aspired to do as many hours per month and year as we could. If you did volunteering and had to take time off work, you could, no questions asked and no time off required (ie: no need to dip into your paid time off).
Team Building
Most companies do some sort of team building work, and I think our most memorable was doing Tough Mudder. I think this one is probably most memorable for one guy who had that as his first day of work. Imagine showing up day one at a new job and being told "ok, first thing we're doing is Tough Mudder." We did Tough Mudder three times in a row, each time dressed in our green colours, and each time with a custom shirt designed by our awesome creative team. There were other activities, but I'll be honest, this was the big one. Not only was it a personal challenge, but it really did do team building. Having your coworkers haul your fat ass up a huge wall or dive into ice water with you lets you look at them in a new light the next time you're in the office and someone asks you for help.
There were others of course. Easter breakfasts, birthday parties, engagement parties, bridal shower, a stag, pyjama parties, barbecues, Halloween costume parties and pumpkin carving contests, coffee runs, community service cleanups, and countless others.
More Evolution
Somewhere in there we turned the company into two parts. One half ran travel sites and the other was creating a crypto-incentivized mesh networking system. It sounds like the travel sites as "just run a website", but the team that put it all together did a hell of a lot of work to create some amazing tech. Think about that photo of an iceberg, with the top being "travel site" and the huge bit under the bottom is a mass of micro-services, routing, and basically top-level, cloud-based tech built by the team.
Things That Stayed The Same
Every company goes through evolutions, and when you're going from 5 people to 40 there will be a lot that is going to change, and that's true for Left of the Dot as well. Some things stayed the same though. Two in particular were our "10:10" morning standup and the core values.
10:10 was a morning standup by a different name. The idea is that 10 o'clock is a bit of a natural break time in the morning. It's right about the time that you're ready for your first cup of coffee (or finishing your first one and ready for a second) and time to stretch your legs. This is when we all stood in a circle (a circle of ever increasing size as time went on) gave our updates (any news, what happened yesterday, what's happening today, anything blocking you from being able to do your work and any big movements in projects) and finished with a cheer or "3 2 1 Lefties". It sounds weird at first (and for people first experiencing this, it definitely was), but makes sense when you've done it a few times.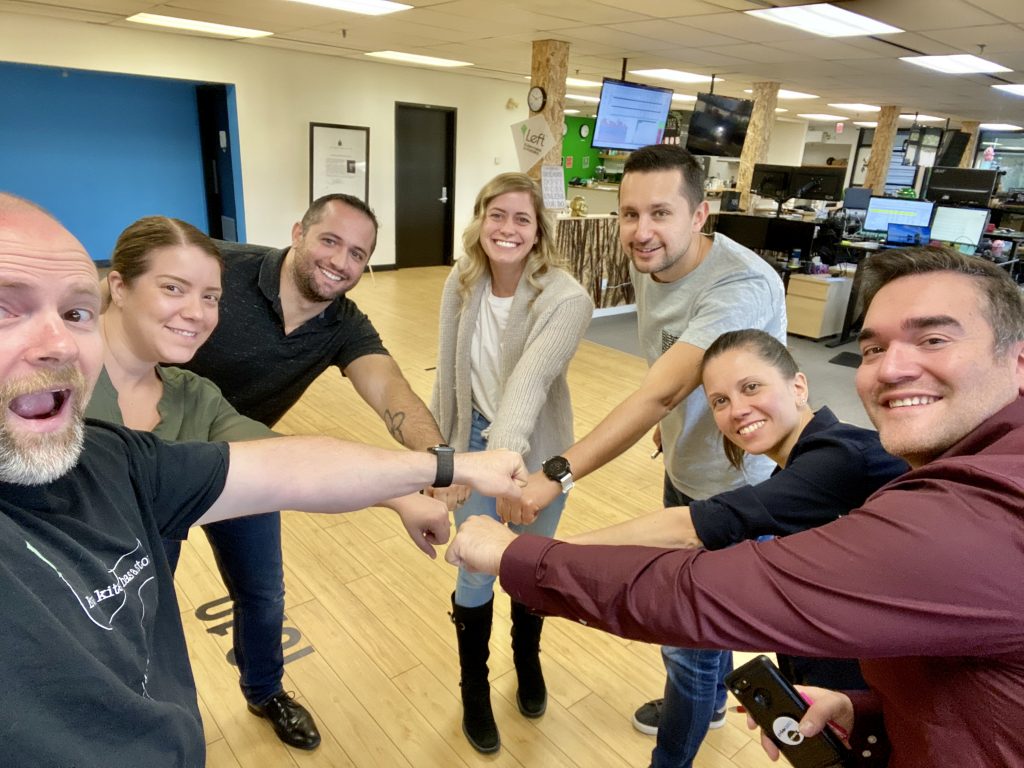 Our 10 Core Values were another thing that were introduced by John and Chris from the start. These were, in no particular order:
Be incredible
Impact your community
Family is important
Keep score
Take responsibilities
The little things matter
Think different
Failure is an option
Imagine the impossible
Make your mark
These values are what the founders lived by and encouraged everyone at the company to live by. And we did it as best we could.
More Random Memories
Countless beers at Beer O'Clock.
Many Easter events with families.
Everyone signing champagne bottles at the end of the year.
Betting on how quickly Django would destroy his new bark box toy.
Waves coffee runs (when we were small enough to do this and not break the bank).
Initiation ceremonies for new members into the Millennium Club.
Showing coworkers the Millennium room after they had worked in the office for weeks with no idea it was there. If there was a secret room, which of course there isn't because if there was I wouldn't be able to tell you about it.
Millennium Club initiation ceremonies.
Joe's Nicolas Cage prank, commissioning an oil painting of himself, and having custom made chairs built for his company.
John's blow up dinosaur costume.
Volunteering for Hour of Code, Ronald McDonald House, and many other good causes.
The shoreline cleanup when we found bones and called the police (but they turned out to be pig bones).
Everyone putting fake beards on to greet me back to the office after a vacation.
Everyone putting balloons under their shirts to celebrate someone's announcement they were pregnant.
Paintball, the ropes course at Wild Play, and barbecues at people's houses.
As the in-house photographer, taking headshots of each and every employee for blog posts, business cards, and other media events.
Corporate getaways and Christmas parties.
Drunken dancing at aforementioned corporate getaways and Christmas parties.
Winning awards! (a trophy case of these sat proudly in the main area of the office).
Being sent on a helicopter tour of the glacier with my buddy Joe for our 5 year work anniversary
The time that our awesome graphic artist Jenna got to design one of the whale statues around the lower mainland.
The Team In Bangladesh
Speaking of the team, over half of the Left of the Dot employees are based in our office in Bangladesh. The head guy there and I go back and forth about who was the first employee of Left of the Dot, and of course, he is wrong and I am right, it's me, he was the first contract employee, whereas I was the first full time employee.
In 2013 the founders and myself were able to go to Bangladesh to meet the team that's there. It was amazing. Absolutely amazing, and unlike anywhere I'd been before. The people were amazing and I took a lot of photos, capturing our trip as best I could. We were able to connect and talk and drink and eat with people we've been working with for years and it made a world of difference in the relationship between the offices.
In the years, the Bangladesh team built from one person, to the 30 or so when we visited, to about 130 (I think) at the peak, in two offices, split between Khulna and Dhaka.
I'd say it was a once in a lifetime trip, but I had the honour to be able to go back just this year to visit again. I was met with the same warmth and love as the first time, and was once again able to connect with the team there. Oh, and amazing food, did I mention the food?
End of an Era – The Up and Down
Sadly, not all things work out. Put simply, COVID-19 fucked us. Hard.
In December and January we were riding high. Our business processes were working well, our teams were in sync, and the travel business was rocketing into the stratosphere. Money was falling from the sky.
Then in March COVID hit and that all came to a screeching halt. Travel stopped in its tracks, as did most of our income. Who would have thought to put "all travel in the world shuts down" in a list of risks for your company future.
The founders, management and money people did their best, as did the employees. We cut costs as best as we could, and this kept us afloat a little longer. We held on as long as they could, but in the end we simply couldn't survive.
And that sucks.
I spent almost a decade working with an amazing group of people. Some came and went, and I'm still friends with some who haven't been with the company for years. The founders, John and Chris, did an incredible job at creating a fantastic working environment. Values, culture and community was always front and centre, and the company created a working environment that I truly believe we all wanted to work in. I don't know if I'll ever find another company quite like this.
Most of the time when a company calls itself a "family" it really means "you'll to come in on the weekends," but in this case it really was a family. I know my coworkers kids' names, did photoshoots of their families, drunk beer, scotch, tea and coffee with every one of them. I honestly don't believe it'll be an experience that I'll have again, and I truly thank them all for that. Not just the founders but every one of the people I had the pleasure to work with over the years.
Once a Leftie, always a Leftie.
I guess for one last time….
3… 2… 1… Lefties