Interesting Ebay iPod Auction

Every once and a while I search ebay.ca for things that interest me in the off chance I'll actually find a fantastic deal. Nothing yet, but that's mostly because I'm searching for things that people don't auction off really cheaply, like iPods.


So today I do a search and see an auction listing an iPod for only $33 (current auction price). Sure the auction still has 6 days to go, but wow, great deal right? I notice at the bottom of the page (advertising a mint condition in the box 20G iPod) that:


This auction is for an Apple Ipod, 20gb, brand new from the factory. If you want this item for just $50, please email me ([email]). Do not bid. this is not a scam. happy bidding


"Uh huh", I think, "sure, whatever." My parents raised me to understand that if something sounds to good to be true, it probably is. So just in case there was a shred of a chance (hell, I'd pay a whole $100 for a 20G iPod!), I threw the guy an email saying that I'd love some details on this.


I just got a reply saying:


i'm not actually selling an apple ipod – i'm selling a link to a website that sells them. the website sells
them for only $25 (or $50 for rushed delivery), and it comes with a money back guarantee – if you don't
receive the item, they'll refund you. it offers free shipping within the states, and i was very happy with
the site. they also have quite a few items on offer as well.



if you want this link, all you have to do is send me $25 to my paypal account ([email]), and
i'll email you the link immediately. then order the ipod from the link. if you are not satisfied i will
refund you the money. any other questions, please feel free to ask me.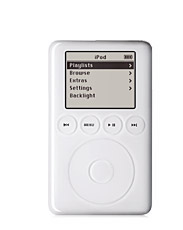 Ok, so first of all, if you're selling a link to a website, why does your auction say that it's for a 20G iPod (isn't that false advertising or bait and switch or something?) and secondly, why aren't you buying these by the case at $25 each and reselling them to friends around school (it's a university email address) for a profit? Why not??


Oh right…. sounds too good to be true.


I thought I'd be smart and google for a search string that might reveal a website with such wonderous prices but alas. I threw him back an email thanking him for the information but saying, " sorry, but I have to say I don't believe that some place is selling a $300USD item for $25," and wished him good luck.


Now if someone out there wants to tell me how to get an iPod for under $450 CND without having me hand over my money first (not that I don't believe that you will refund the money if I'm not satisfied), I'd love to hear about it.


Update Just got a reply, saying he found it hard to believe as well, and had to pay $110 for the link and included an exerpt from the secret hidden bat-website to show he's not lying, which I have included below. The fact they tell you in the FAQ that it's not a pyramid scheme or an MLM pretty much says it all to me. Oh, and the fact that people seem to be magically receiving free stuff through some strange "escalator list". I think basically they are saying if you buy an e-book from them they send you a free iPod/Gameboy Advance/Porsche/whatever. Oh, and the one time sign up fee doesn't hurt (them) either.

Below is a copy from the email.

---
How does this work?

We,
—–.com, are an E-book retailer.
When you purchase an E-Book from us you will be placed into the
escalator list of your choice for free. You choose your book/or books
and the list you want to be placed into. You will be E-mailed Your
E-book/ E-Books according to which escalator list you choose. Normal
list members receive one (1) E-Book and Fast Track List members
receive two (2) E-Books. Just let us know which book/books you want
and they will be E-Mailed to you after your payment is
confirmed.

Example
In
this scenario "John Doe" Purchases a "Fast Track
Membership for 2 E-Books on the GameBoy Advance SP List for $50. John
would place a comment in the paypal payment and let us know which 2
E-Books he is purchasing. He would then be E-Mailed his 2 E-Books
after payment confirmation is received by us. John will then be
placed on the "GameBoy Advance Fast Track List" based on
the time of his payment. This list has a 3 person Escalator Length
(see below), When John is in the # 1 position he will receive his
free item after 3 new people sign up after him.
GameBoy Advance Sp

Normal Escalator List
Escalator Length 6
E-book/Membership Price $25
Fast Track Escalator List
Escalator Length 3
E-book/Membership Price $50
Top Of
List (John Doe)
1
2
3- Person 1
(John Doe) receives Free item
4
5
6 – Person
2 receives Free item
7
8
9 – Person
3 receives Free item
10
11
12 – Person
4 receives Free item
When Did this site Start?
Good Question. Unlike some other Sites We Just
Started. The list began at 12 noon (central standard time) on 4/3/03
We just started Marketing our Club's website. Now is the time to join
as many more people will be learning of our site in the next few
months.
How can memberships be paid
for?<?XML:NAMESPACE PREFIX = O />

That's the easiest part of all! We only accept
PayPal,
the Web's premier payment services. This service is free for
you and you can use MC/VISA/Discover/AMEX or your bank account. We
do not accept any other method of payment. The Reason is simple,
we need to be able to show the exact time and date we receive your
payment in order to accurately and fairly place your name on the
escalator. By using Paypal both we and you have a record of when the
payment was received. This way there can be NO DISPUTE as to when the
payment was received and where you will be on the escalator.
Are there monthly fees?

No! The $25.95 membership fee is a one-time
only membership fee, non-recurring.

Why don't I see my name on the Escalator?


Please be patient. Sometime it takes us longer
than 24 hours to process and get Escalator updated. Since you will
have joined by electronic payment rest assured you will be placed
based upon time and date your payment was received.

Are there any hidden requirements to
getting my item?

No. All you have to do is wait for more members
to join. We have a strict anti spamming policy so please don't
spam. By sharing with others however you can accelerate how quickly
the cycles are moving and as a result shorten the time you must wait
for your computer.

How long should I expect to wait to get
my item?

This question depends mainly on how many
members we have joining. Holidays and weekends will of course affect
how many signups we have. PLEASE do not email us asking how long it
might take! The more time we have for promoting this new system, the
quicker it will work for you!

Can I receive more than one item?


Yes, there is no limit on memberships.

Will we be able to view our position on
the Escalator?

Yes, the Escalator is updated every 24 hours,
usually sooner. Once you become a member, you will have full access
to the member pages which includes the site of the Escalator.

Would you please explain again how this
works?

Upon payment of the one
time subscription fee, the member's name shall be added to the
item's escalator list, in the order membership payment was received
(exact date and time).

Once the member reaches
the top of the escalator, that member's cycle for a free item
shall begin. Once the member's name is at the top of the
escalator, and the required number of people have joined, then that
member's cycle shall be completed and they will receive their
free item.

Once completed the member
shall be removed from the escalator list. Once the member is removed
from the escalator, the next member in line shall ride to the top of
the escalator and the cycle shall restart.

The time required for
each members name to ride to the top of the escalator is dependent on
how many people are ahead of you on the escalator, and the number of
memberships added. There is no guarantee as to how long it will take
for each member to receive their free item.

SHIPPING IS FREE!


Is
this a Pyramid Scheme or MLM?
No, This is neither a Pyramid Scheme nor a MLM.
We are selling you the E-books and trying to promote our E-book sales
with this free promotion

How many people do I need to join?

You don't have to have anyone join.
We,—-.com, will promote this site for an obvious reason. We want to
sell as many copies of our E-books as possible. But it will grow the
Escalator faster if you promote and have people join the program (buy
the E-books).

I live outside of the United States. Can
I join?

Sure, however Shipping costs will have to be
evaluated on a case by case basis. International shipping costs will
be paid for by members!

Is there a warranty on the computer?


Yes. The warranty coverage will be a minimum of
one year provided from the manufacturer or their representative. The
laptop is currently offered with a three warranty. Note the computer
has an in home warranty so you won't have to ship back top the
factory if service is needed. These are based on the current Dell
model's. We'll do whatever we can if you prefer a different
manufacturer.

Are there shipping charges?

No! Shipping is FREE!

Will the computer specifications change?


YES, as the computer
industries technology advances, computer specifications will change.
You may receive a much more powerful system than the one that is
currently specified. Example: Today a 2.0 GHz machine might be
standard. In six months a 3.0 GHz machine might be commonplace. If so
the specifications would probably be for a 3.0 GHz machine if that is
where technology is in six months!

Can we have additional components added
to the computer, memory upgrades, etc.?

Our common policy is going to be that if a
member communicates with us quickly after cycling and we can work it
out, we will consider having upgrades added to the computer at
additional cost to the member. There is no guarantee, but we would
like to help you get as many options that fit your specific needs.
Remember we cannot guarantee this is an option but will do
everything we can to help. All free upgrades will passed on to you at
no cost!

Do you provide technical assistance for
the free computer?

No, you will be
provided a warranty contract per the computer specifications and you
have to contact the factory for service. Sorry we are not in the
computer troubleshooting business!

---

I don't believe it, do you?