New Kitchen Arrived
Who says you can't get a new kitchen for under $10,000? 🙂 You don't need nearly that much if you have a resourceful family. As I said before, we got a pile of kitchen bits. Well, starting the friday off, we started using them. See below for pics and details…
We started off something like this:
Things still in place, a potential new island in the foreground, and a new pantry put in it's temporary new home beside the hallway (behind FireflyMom). Not long after this the stove had been moved and the cabinets that were on the side were ripped out, and we had put together three cabinets to use as uppers. The second one is jogged up so we can put a stove fan in there.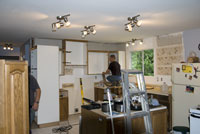 Next was the fun of ripping the old crappy 70s style cabinets out. Here's what the kitchen looks like nice and bare: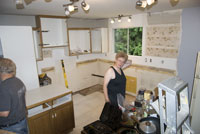 We just threw garbage and junk (yup, that was my sink) out the window.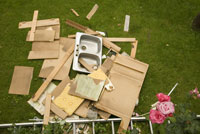 After much work, we're (almost) Done!. We have the new set (mostly) set where they go, this was friday evening, and I think that now (sunday evening) we're relatively sure what's going where.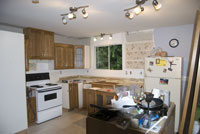 This was done friday night. Saturday was an (expensive) trip to Ikea where we got sink, taps, a cool hanging down from the ceiling dojigger to hang puts from, and various other bits. Man, what a dangerous store! We did get some good ideas on how to finish things up though.
Sunday was figuring out the counter top. The end result (so far) is tile, which we found at a not bad price, which will be the most expensive part of the whole thing. We have the underlay, and what feels like 80 different tile and backsplash samples that we've gotten from various stores. Over the next week (along with various other obligations) we'll be finishing up the countertop and backsplash, getting a used dishwasher from FireflyFolks, and finishing things up. I will say it will be really nice to have a sink again, as being without it has been almost as inconvenient as being without hot water all weekend (the shutoff for the hot water under the (now gone) sink leaked, so we had to shut off the hotwater at the heater). All in all a greatly productive weekend that's gone HUGELY towards getting this house DONE!!