Some Pics from Last Weekend
Not two days ago, but 9 days ago, the weekend of the sunrun and the Linux Northwest show.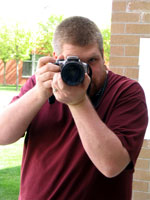 Clayten and I squaring off at the Linux show. He won with his Digital Rebel and IS lense however….
<
p>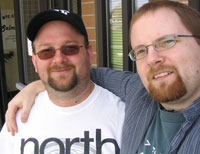 Met up with Jim, my evil twin brother down south. Actually I don't know if he's the evil one or I am, but our resemblance (probably more so in person) is a bit… alarming. Even cut our long hair off around the same time!
<
p>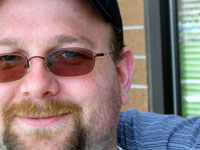 This picture is actually a mistake. I was originally trying to get the shot above with both of us, but left the zoom lense zoomed in and only caught part of his face. It was a cool composition and expression, so I kept it.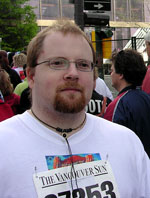 Picture curtesy of Fred and Nicole, who somehow randomly showed up behind me and my group while waiting for the start of the run, and snapped this pic me me in all my cough glory.