Getting Bare
Well, we're still three days from being able to move in, but packing has started. Most of the bookshelves in the house are empty, and there are various piles of stuff around the house. Piles to be thrown out, to be donated to some random charity that takes old crap, and so on. The hall closet is pretty full of boxes of books, and the walls are having pictures and personality removed systematically. Of course, even though we get to move in on Wednesday, we're not going to be moving in for at least a couple of weeks, though not more than three. I guess it makes sense to pack now, so it's not something that has to be done in the midst of renovating of the new house.


While getting boxes ready (they are all old fruit and veggy boxes from Save-on-foods, so all the books and knick-knacks will smell like apples when they are unpacked), I found this little critter sitting and he (she?) was nice enough to pose for a few pictures.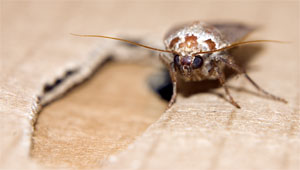 And a closeup crop….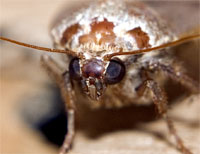 Taken with my *ist-D, 50mm F1.7 SMC manual lense and three closeup filters. Of course, my next purchase for macro and closeup work will probably be the SMC 105mm macro lense, as it produced these brilliant macro shots. It's all in the person behind the camera of course, but a good macro lense sure helps as well 🙂