Backyard Work
Somehow going from faux-work (official first day is tomorrow, I went in today for a staff meeting), home and shopping then dinner, and getting pictures from my camera stitched and cleaned up (a bit) and resized, it took way longer than I expected, and somehow it's suddenly 11! I didn't even get a chance to watch Prison Break or 24 (my normal monday fare). Luckily I have the mythbox going so I can watch it tomorrow. Anyway, this last weekend was an outside weekend where it was all running around and working. FireflyMom and FireflyBro came out and we blitzed the backyard. Since I have no experience in fence or deck building or running an excavator I was relagated to doing things like moving things, carrying things, loading up the truck with garbage, and taking stuff to the dump. The end result was something along the lines of this…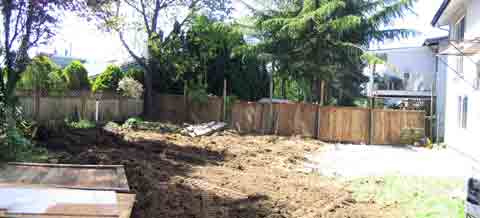 No, the wonky fence line is not the result of a bad panorama stitch, it's the fact the fence is only leaning up against the posts 🙂
Click the read more link for more pictures of the chaos….
Things had to start out like this, with the disposal (read smooshing) of the garden shed: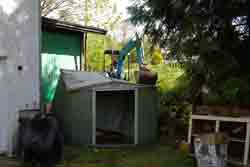 Then we (read: firefly) went and nuked the hedge and basically ripping up the lawn.

After that, we went and got some parts. Some quick dry cement, fenceposts, and a couple of these big ass blocks, which are damn heavy and one of them scraped my arm up something bad 🙁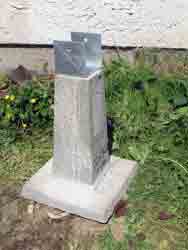 In the midst all of this, my big black cat took great pleasure in using the dirt and dust that we had kicked up to do what else, but try to turn himself into a big grey cat!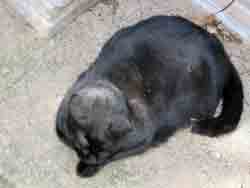 In more animal news, the last week we were babysitting FireflyMom's dog, and one day while we took him for a walk we encountered another friendly dog. Well, at least the nose of another friendly dog.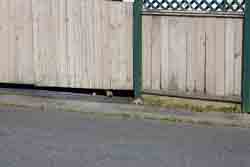 The FireflyFam also did some really good work on the area between our house and the neighbors, sort of a terrace idea. Some plants were transplanted here as well. Hopefully the combination of bad dirt and scorching sun don't completely kill them.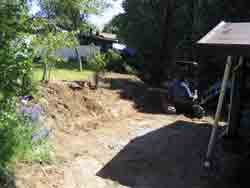 After it was all said and done, here's the result. The deck base is in, the blocks are ready and there are three loads of gravel in there.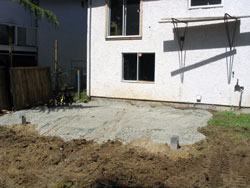 Today, after the pics were taken on the weekend, Firefly got started on creating a pathway in the backyard around the perimeter of the yard. Can't wait to see what happens next. Of course, the next couple of days will be interesting, with $newjob starting and me getting up at quarter to 6 (am!!!!!!). Hopefully that's just getting up a bit overly early. That said, it's quarter after 11 so I'm going to get my fuzzy butt to bed!