RIP Corny :(
On Thursday, my friend, and cat, since 1997 passed away.  He was sick the day before and Andrea took him into the vet, and we were told he needed some fluids and antibiotics, but the issue was a fixable one, not a "he's old and you're just prolonging the inevidble" situation.  We left him there but there were complications at the vet's office, and she called me to tell me he had passed away just as I was telling a model (I was out for a shoot in Abbotsford) about how he was old and I was prepared for what might happen, but was happy that he'd be with me a while longer.  Ah well, such is life.  16 years is a long time for a cat I think, and I was happy to have him by my side since before I was out of University when I got him from Pam as a tiny kitten.  The first post I could find was a while into his stay, but not that long since. The very first mention is July 1997, before I got him when the litter of kittens was still too small to come home.
Anyway, here's the last couple of pictures I have of the old man, doing what he does best, cuddling with his people.
And a couple from when he was a baby.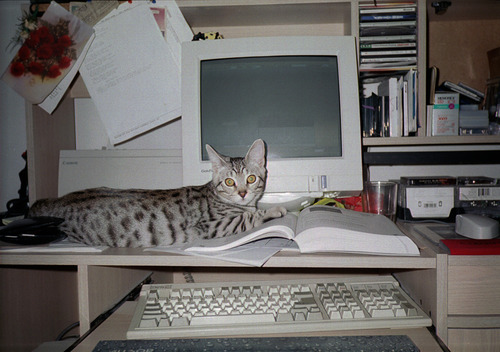 He was my first "real" cat and was with me for almost as many years as he wasn't.  I miss him but am happy for the time I had with him cuddling on the couch or sleeping on my shoulder at night and purring.